What is the most important information I should know about azelaic acid cream?
Follow all directions on your medicine label and package.
Tell each of your healthcare providers about all your medical conditions, allergies, and all medicines you use.
What is azelaic acid cream?
Azelaic acid is a naturally occurring acid.
It helps the skin to renew itself more quickly and therefore reduces pimple and blackhead formation.
It also helps to kill the bacteria that cause acne and rosacea.
Azelaic acid cream (for the skin) is used to treat acne and rosacea.
Azelaic acid cream may also be used for purposes not listed in this medication guide.
What does azelaic do for your face?
Azelaic acid is in a class of medications called dicarboxylic acids.
It works to treat rosacea by decreasing the swelling and redness of the skin.
It works to treat acne by killing the bacteria that infect pores and by decreasing the production of keratin,
a natural substance that can lead to the development of acne.
What should I discuss with my healthcare provider before using azelaic acid cream?
You should not use this medication if you are allergic to azelaic acid or propylene glycol.
Azelaic acid topical is not expected to harm an unborn baby.
Tell your doctor if you are pregnant or plan to become pregnant during treatment.
It is not known whether azelaic acid topical passes into breast milk or if it could harm a nursing baby.
Do not use this medication without telling your doctor if you are breastfeeding a baby.
Does azelaic acid remove dark spots?
It fades dark spots by stopping discolored skin cells from populating and evening out skin tone that's discolored due to excess melanin production.
Treats Acne Marks – Azelaic Acid evens out the skin tone and helps fade the red, purple,
and brown marks that acne can leave on the skin.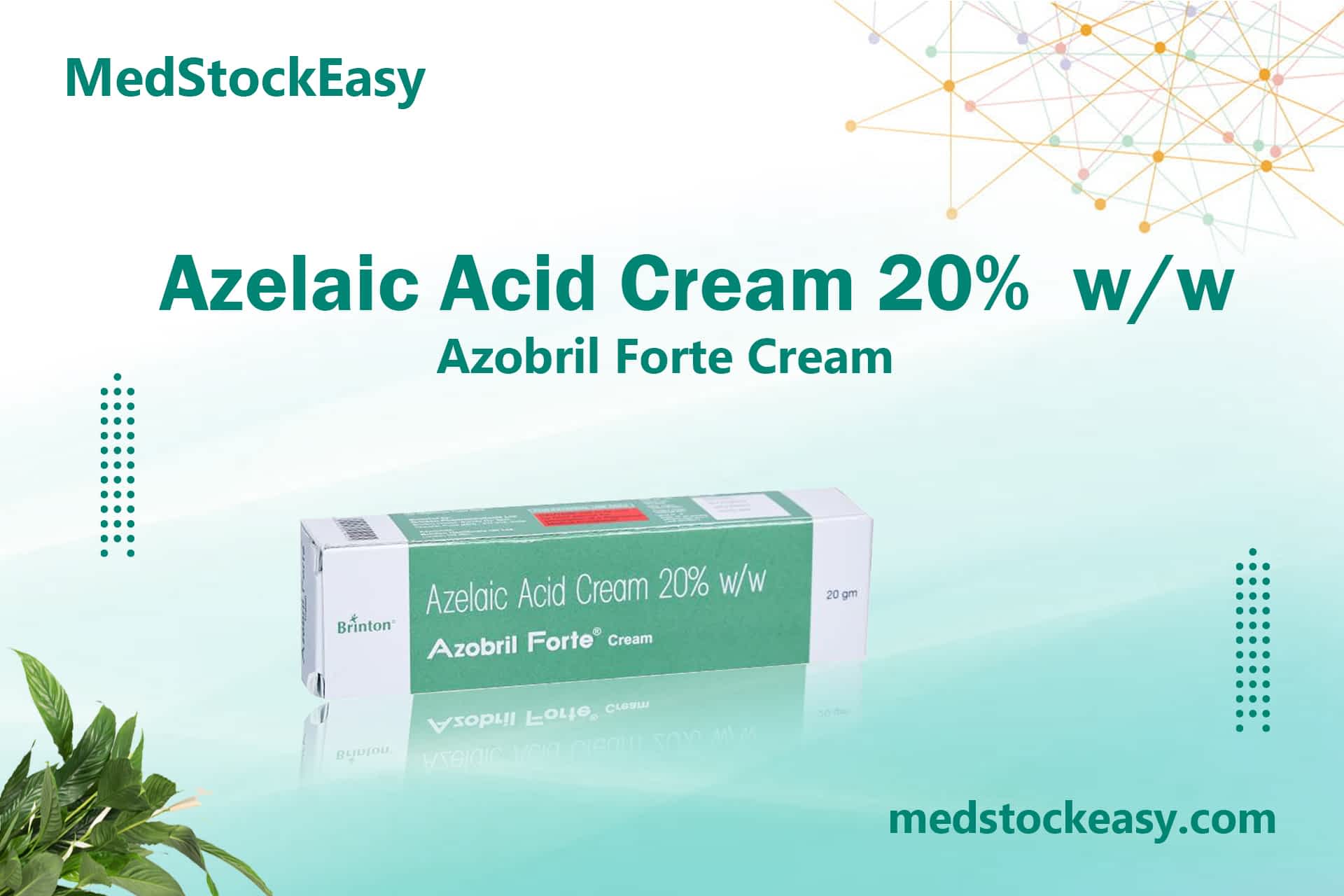 How should I use azelaic acid Cream?
Use exactly as prescribed by your doctor.
Do not use in larger or smaller amounts or for longer than recommended.
Follow the directions on your prescription label.
Wash your hands before and after applying this medication.
Clean the affected area with a mild soap or a soap-free cleansing lotion and pat dry with a soft towel.
Apply the medication as directed.
Azelaic acid topical is usually applied twice daily, in the morning and at bedtime.
Follow your doctor's instructions.
Do not cover the affected area after applying azelaic acid.
Doing so could cause too much medicine to be absorbed by the body and could be harmful.
It may take up to 4 weeks or longer before your symptoms improve.
Keep using the medication as directed and tell your doctor if your symptoms do not improve after 12 weeks of treatment.
If you have excessive burning, dryness, or irritation, ask your doctor about using azelaic acid once daily.
Store at room temperature away from moisture and heat.
What happens if I miss a dose?
Apply the missed dose as soon as you remember.
Skip the missed dose if it is almost time for your next scheduled dose.
Do not use extra medicine to make up for the missed dose.
So, friends, you must have now understood What is azelaic acid cream?
If this post has been helpful for you and you must have found it, you can share it on social media if you like our article.
Do share with friends, and then if you face any problem, please tell us in the comment.
More Related Posts:
For More azelaic acid cream Updates and Information, What is azelaic acid cream?, Visit medstockeasy.
What is the best place to buy azelaic acid cream online?
We at MedStocyEasy, offer Levitra. You can place an online delivery by visiting here.